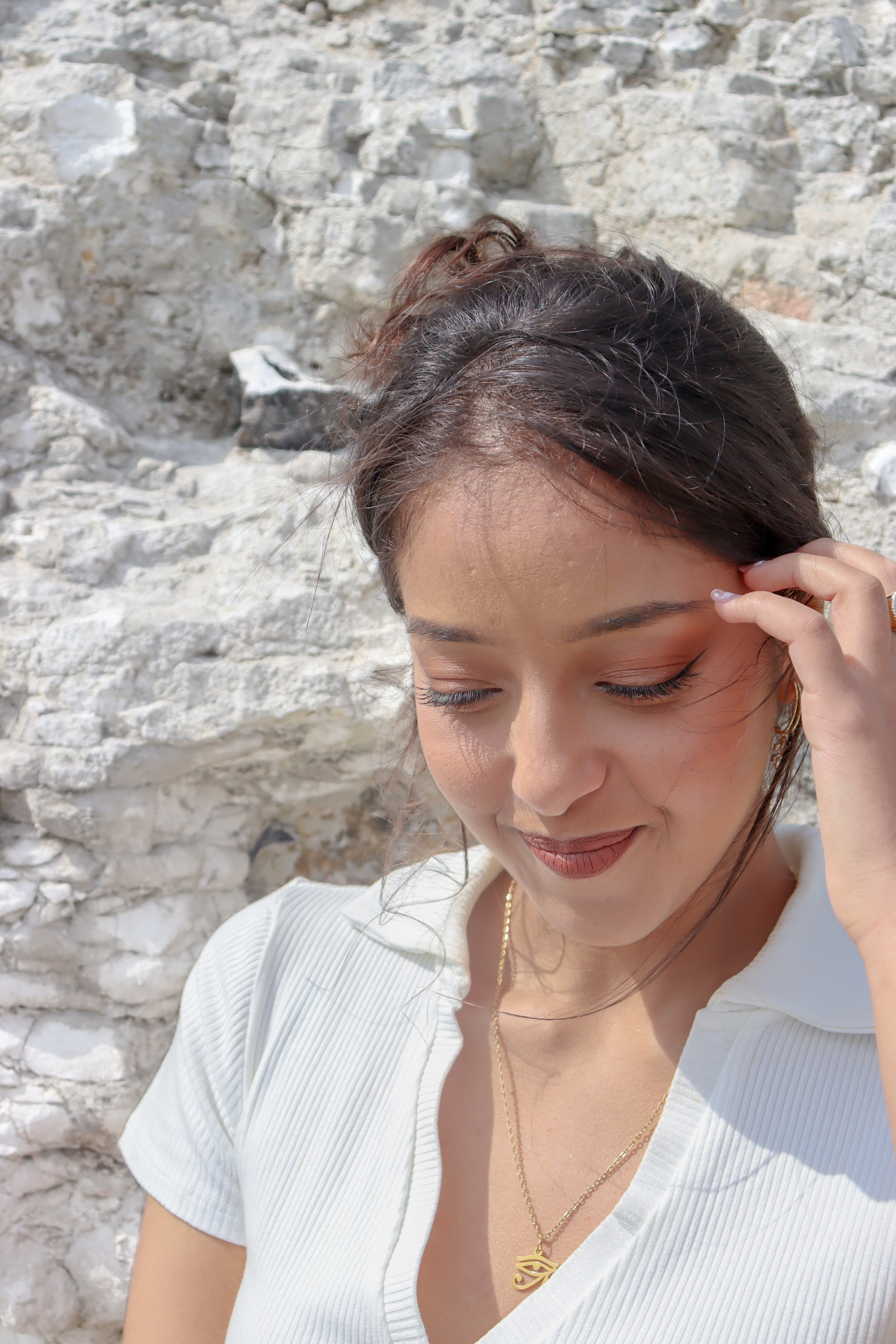 Egyptian Eye of Horus Necklace
A necklace of the Eye of Horus, an ancient Egyptian symbol of protection, royal power and good health.
Horus means "The One Far Above". Horus in Ancient Egypt was one of the most significant Ancient Egyptian deities who was known as the god of kingship, healing, protection, the sun and the sky. His right eye was believed to be the sun, representing power and his left eye was the moon, representing healing. 
Material: 18K Gold Plated/Silver Plated on Stainless Steel
Pendant Dimensions: 2cm x 2.3cm
Chain Length: 50cm
No Rusting/Discolouration
 
Purchase longer 60cm gold chain
Egyptian Eye of Horus Necklace
Buy it don't hesitate!!
I love this necklace! This is the fourth piece of jewelry I have purchased from her, and all of them have yet to disappoint! The gold has a beautiful shine to it, and it hasn't changed color at all!! Can't wait to order more. Everything is amazing quality mashallah
Very pretty
A pretty Eye of Horus pendant, I love how much it shines, especially in the sun. My only gripe is I'm not the most fond of the chain's width, but I think that's just me and my like for thinner chains. :)
stunning !!
bought for my sisters birthday and she loves it ! she wears it everyday 💘
Love it
I love it! It's a good quality and love the packaging ! love it love it love it !
So pretty!
It looked just like it did online and it's so light and pretty I love it!
FAQs
Fast shipping
Your jewellery is usually shipped within 1-2 days of you placing your order.
Worldwide Delivery
Delivery in the UK in as quick as 1 working day!
Rusting
Your jewellery is made from the highest quality materials to ensure that it lasts as long as possible.
Keeping your jewellery away from chemicals (perfumes, body lotions, makeup, chlorine) will help preserve its condition