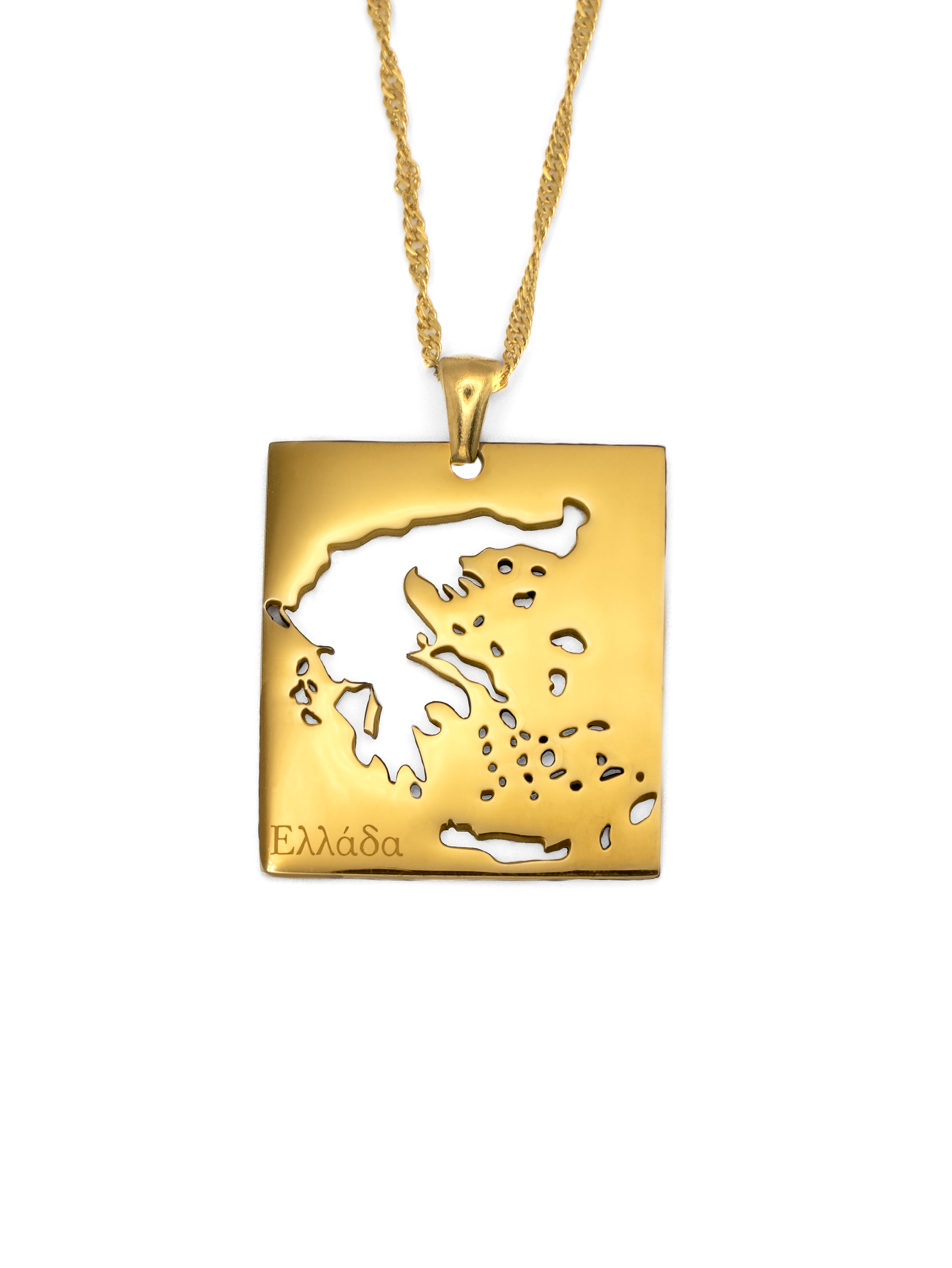 A necklace of the map of Greece, with 'Greece' lasered in Greek. Display your pride in your nationality! 
Material: 18K Gold Plated or Silver Plated on Stainless Steel
Pendant Dimensions: 2.5cm x 3cm
Gold Chain Length: 45cm
Silver Chain Length: 60cm
No Rusting/Discolouration
Purchase longer 60cm gold chain 
Very happy with my purchase!
We received the Greece map necklace on time in a beautiful package!
It was a gift for my daughter and she really loved it!
She said she will wear it every day!
Love it!
This is such a gorgeous necklace!! i love it so much!!! i was expecting it to be a little on the bigger side because of greeces shape but it ended up being perfectly sized! It's really detailed and i can't wait to wear it everyday!!
favorite piece!!
I am in LOVE with my Greece necklace. It is so beautifully made, so much care in the details! I know that this was NOT easy to make, she did such a beautiful job! the chain is also really nice <3 I wear mine everyday!!! Ellada mou <3
Greece Necklace
It's an absolute work of art 10/10
Beautiful Necklace
Great quality and beautiful necklace, very fast delivery in London. Only thing is the little section that separates Central Greece from the Peloponese can get crocked easily but it's to be expected since Greece is quite an odd shape. Other than that amazing!
FAQs
Fast shipping
Your jewellery is usually shipped within 1-2 days of you placing your order.
Worldwide Delivery
Delivery in the UK in as quick as 1 working day!
Rusting
Your jewellery is made from the highest quality materials to ensure that it lasts as long as possible.
Keeping your jewellery away from chemicals (perfumes, body lotions, makeup, chlorine) will help preserve its condition